Zurich, May 23-25, 2018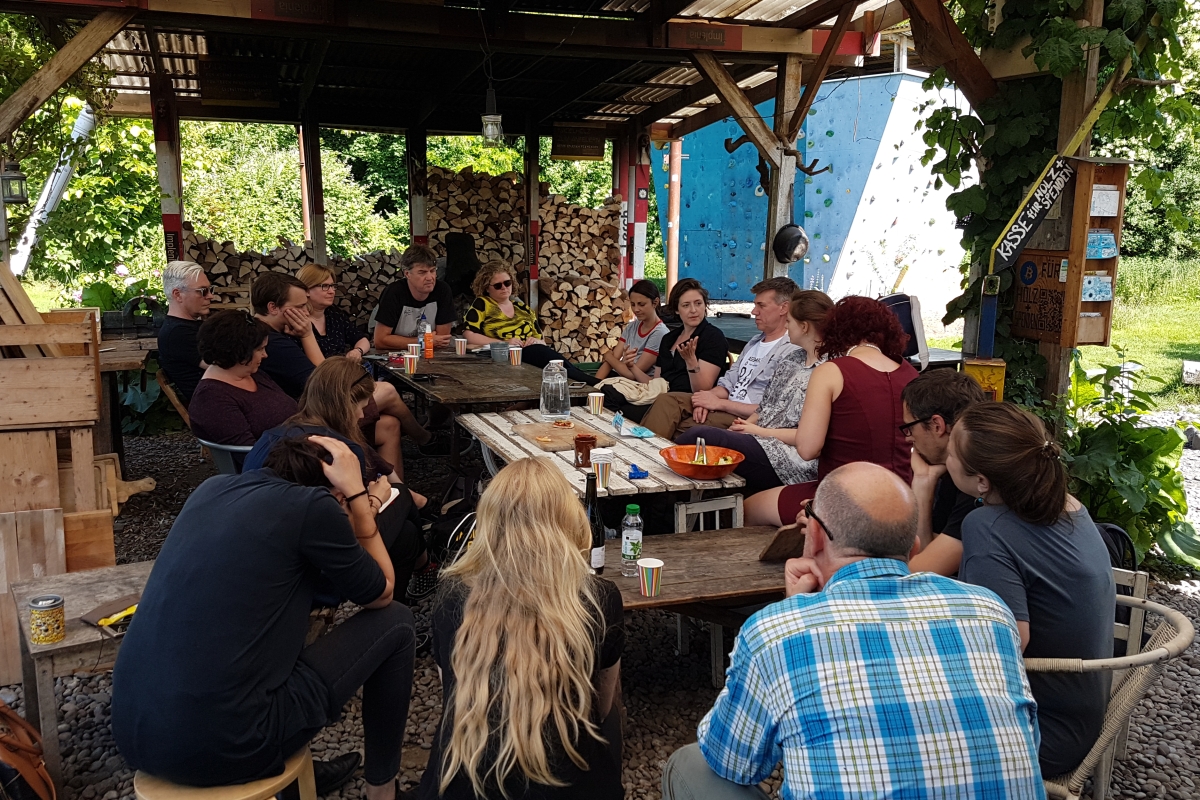 In May 2018, 50 years after the historic call for "the right to the city", the INURA Zurich Institute and NetHood organize a workshop with the topic 'Cooperative housing and beyond', aiming to advance participatory practices in urban production.

The workshop takes place in Zurich's Kreis 5 in the Kraftwerk1 housing cooperative and in the neighborhood space at Langstrasse 200, in the context of the projects MAZI, netCommons, PARLA, and the INURA Coop Initiative.

---
---
Key people engaged in the cooperative housing movement in Switzerland and abroad gather for two days to discuss ongoing projects, current challenges, and future possibilities, related to self-management and collective decision making. Main purposes of these interactions are networking, information sharing, knowledge exchange, and collective learning.

The event includes guided tours in the housing cooperative projects Kraftwerk1, and Kalkbreite, and workshops/discussions around the following topics:
knowledge sharing between existing and planned coops with examples from Athens, Ljubljana, London, Berne, Zurich, and more.
intensify platforms of collective learning on cooperatives, self-management, co-living, decision making.
cooperative technology and the right to the hybrid city (Internet sharing, Intranets, local networks, cooperative ICTs and more)
---
May 23 | May 24 | May 25 | Participants | Locations | Related events
---



Wednesday - May 23rd

19:00 Reception
Kraftwerk1, Pantoffelbar, Hardturmstr. 269, 8005, Zurich
- Drinks and food at Pantoffelbar, the "slippers bar".
- Slideshow from the Kunstwerk1 hybrid exhibition.


Thursday - May 24th

09:45 Kraftwerk1 Tour - http://kraftwerk1.ch
Meeting point: Stadionbrache Community Garden
- Tour Kraftwerk1 Hardturm Cooperative including MAZI Zone installation.

12:30-17:00 Stadionbrache Community Garden workshop - http://stadionbrache.ch/

-- 12:30 Collective lunch
Community pizza session (we make pizza together)

-- 13:30 Stadionbrache tour
Guided tour of Stadionbrache and input from Lolo, care taker and manager of the community garden

-- 15:00 Cooperatives and open spaces
Discussion on open space projects and mazizones with input from
Prinzessinnengärten, Berlin, Elizabeth Lüning Calderón
Deptford Creek, London, James Stevens
Wunderkammer Glattpark, Zurich, Vesna Tomse

-- 16:00 Co-design workshop on hybrid open spaces
Design details with input from lessons learned in the MAZI pilots
Andreas Unteidig, Design Research Lab, UdK, Berlin
Mark Gaved, Open University, Milton Kaynes
Michael Smyth and Ingi Helgasson, Napier Edinbourgh University

-- 17:00 Free time
Walkshops / private time

18:00-21:30 Cooperative housing in Europe workshop
Kraftwerk1, Hardturmstr. 269, Dachraum, Lift3, Floor 8

-- 18:00 Roundtable on collaborative housing projects
Reflecting on experiences by participants of new projects with guest inputs from
Maša Hawlina (Ljubljana)
Alexandros Papageorgiou (Athens)
Constance Carr (Luxemburg & Canada)
Iva Marcetic (Zagreb)
Arie van Wijngaarden (Amsterdam)

-- 19:30 Buffet - Soup

-- 20:30 Discussion on knowledge transfer processes
Open discussion on challenges and opportunities (moderated by Philipp Klaus and Ileana Apostol)

-- 21:30 Closing


Friday - May 25th

09:00-10:30 Kalkbreite Tour
Kalkbreitestrasse 2, 8003 Zürich, http://kalkbreite.net
- Visit and discussion with Res Keller (former CEO of Kalkbreite)

10:45-15:30 Beyond cooperative housing (special topics)
Langstrasse 200, 8005, Zurich, http://langstrasse200.ch
- Focused workshop on specific topics and concrete future activities that connect internationally through the INURA Coop initiative, and develop locally through the Plattform Genossenschaften and NetHood's neighborhood-wide initiative PARLA, among others.

-- 10:45 The projects L200 & PARLA
Introduction to L200 (Thomas Raoseta) and PARLA (Ileana Apostol)

-- 11:00 International exchanges and collaborations
Shaping future steps in research and action for cooperative housing and beyond with collaborations between organizations and institutions like the INURA coop initiative, ETH Wohnforum, Co-Lab Research, and more.

Sanna Frischknecht (Warmbaechli cooperative)
Sara Brysch (Co-Lab Research)
Philipp Klaus (INURA coop initiative)

-- 12:00 Collective learning processes
Developing educational material and grassroots learning processes with collaborations between organizations and initiatives like the Plattform Genossenschaften, the neighbourhood space L200, the online platform Openki.net, and more. Inputs from

Andreas Wirz (Plattform Genossenschaften)
Tanja Herdt (ETH Wohnforum)
Jens Martignoni (Flexonomix)

-- 13:00 Lunch

-- 14:00 Cooperative technology and the right to the hybrid city
Synergies and coalitions between digital and urban activists with focus on alternative ICT solutions for cooperative housing projects. Inputs from
Panayotis Antoniadis (NetHood)
James Stevens (SPC)
Thomas Raoseta (NeNa1)


-- 15:30 Closing coffee




Alexandros Papageorgiou, University of Thessaly & CoHab Athens, Greece
Andreas Wirz, Archipel GmbH, Vorstand Wohnbaugenossenschaften Zürich
Andreas Unteidig, Design Research Lab, UdK Berlin
Arie van Wijngaarden, Housing policies, Amsterdam
Christian Schmid, ETH Zurich
Constance Carr, University of Luxembourg.
Elizabeth Lüning Calderón, Neighbourhood Academy, Prinzessinnengarten, Berlin
Gareth Davies, Open University, Milton Keynes
Harris Niavis, University of Thessaly, Volos
Ileana Apostol, NetHood, Zurich
Ingi Helgasson, Napier Edinburgh University
Iva Marcetic, Right to the city and Co-op Open architecture, Zagreb, Croatia
James Stevens, SPC, London
Jasmine Palmer, TU Delft NL & University of South Australia
Jennifer Duyne Barenstein, ETH Wohnforum
Jens Martignoni, University of Cologne & Flexibles Zurich
Lauren Lapidge, unMonastery, Athens
Lukas Zeller, Gleis70 working cooperative, Zurich
Marcel Waldvogel, University of Konstanz
Mark Gaved, Open University, Milton Keynes
Maša Hawlina, Zadrugator cooperative, Ljubljana, Slovenja
Michael Smyth, Edinburgh Napier University
Nikos Nikolis, Architect, Zurich
Panayotis Antoniadis, NetHood Zurich
Philipp Klaus, INURA Zurich Institute
Rainer Telaar, Agencie de L'Energie S.A., Luxembourg
Res Keller, former CEO of Kalkbreite cooperative, Zurich
Sanna Frischknecht, Sociology, University of Basel & Warmbaechli Cooperative, Bern
Sara Brysch, Co-Lab Research, University of Delft
Stavroula Maglavera, University of Thessaly, Volos
Tanja Herdt, ETH Wohnforum, Zurich
Thomas Isler, film director, Zurich
Thomas Raoseta, board member of NeNa1, 5im5i, gim5i+, Zurich
Vesna Tomse, founder Wunderkammer, Zurich




Stadionbrache community garden


View Larger Map

Kraftwerk1 Pantoffelbar/Dachraum
Hardtrumstrasse 269, 8005, Zurich


View Larger Map

Neighbourhood space L200
Langstrasse 200, 8005, Zurich


View Larger Map

Kalkbreite
Kalkbreitestrasse 2, 8003 Zürich


View Larger Map




This workshop belongs to a series of events co-organized by NetHood and INURA Zurich Institute:

---
---